Home Solar Panels - Top Questions Homeowners Ask Us
Shopping for solar panels for your home? For any homeowner in the early stage of shopping for solar, determining how to best evaluate quotes from various solar companies is essential. We put together a conversation of some of the hardest hitting questions homeowners have asked while shopping for home solar panels with Forme Solar. Be sure to also check out top Solar FAQs.
Do you design and install the system with your own employees? Or do you sub out the design or installation work?
All of our design and installation work at Forme Solar is done in-house and that is part of how we ensure quality. By intimately understanding the elements and reasoning behind our design and installation practices, our teams understand that each house is different and avoid taking a cookie-cutter approach.
Who should you contact if there is a problem with the system? How quick will I get service? Who makes sure service is done properly and on time?
As one of the few solar companies that has built a business around repairs for systems we did not install, our customers get immediate responses and a technician is scheduled within days if not the next day. As a business with a reputation to protect in the age of Yelp and Google, we are all expected to service our customers properly and on-time. We believe that we only have one shot to do things right and we take that very seriously.
What does your warranty cover?
Parts such as Solar Panels, Microinverters, and Racking. We also cover our roof penetrations for 25 years. All warranty work also includes a 25-year workmanship warranty which includes parts and labor at no cost to you.
Does your warranty also cover my roof? Who is liable if my roof leaks after the install?
We are liable for all leaks stemming from our roof penetrations. If you experience a leak from work we performed, we will make all necessary corrections at no cost to you.
What areas does your warranty or service NOT cover that I should be aware of.
The only areas we do not cover are those that are not related to the solar energy system. For example, we do not cover any portion of the roof we did not penetrate or affect due to the install.
If my roof needs repairs in the future, what is the process for removing and replacing the solar panels?
For our customers, we will do a one-time solar panel removal and re-install for $1,500 at any point during the lifetime of the system.
Do I have to upgrade my roof prior to the solar install?
That depends on a number of conditions like paper quality and condition of the roof tile, but the general rule is we do not install on roofs that are assessed to have less than 10 years of life remaining.
What happens if the system does not produce as much power as was promised? Do you offer a performance guarantee?
We do not offer a guarantee that says your system will produce a specific number of kWh/year. Instead, we follow the panel manufacturer's guidelines and warrant that your system will not fall short of the estimated production by more than 2% in year one, no more than .33% in any given year after the first year, and no more than 10% over the 25 year lifetime of the system.
What happens if the system produces more power than we need? Do we still have to pay for it? Is there any way we could pay more on a monthly basis than what you quoted?
Yes. As owners of the system, you get to benefit from any excess energy you produce while your loan payment (if any) remains the same.
Assuming we go with a loan -- Will there be a lien placed on our property for the system?
A lien is not placed on your home, but there is an equipment lien placed on the system itself.
Is there an insurance policy that comes with the system, or do we need to take out additional homeowner's insurance?
There is no insurance policy that comes with your system but most of our customers do add it to their homeowners insurance.
What is the fee for breaking the contract early (e.g. because you move)? Can we transfer the loan to someone else say if we sell our home?
This is really for the finance company to answer but generally speaking, loans are not transferable to the new owner. But you can pay off the loan early without penalty.
Can I pay off the loan early without penalty?
What panels are you recommending – and why are they the best choice?
We recommend LG panels although we work with all the top-tier manufacturers from Panasonic to Solaria. We choose LG because of their track record, high efficiency, and the fact that they are found everywhere. Furthermore, a billion dollar company will have more resources and infrastructure in place for warranty replacements than a smaller company will. If a panel needed to be replaced, we do not want to have to jump through a bunch of hoops and wait for things to be shipped from out-of-state.
What Inverter are you recommending – why is this the best choice?
We recommend the Enphase IQ7+ due to it's great warranty, track record, and the ease of install and replacement. Each customer has a 25 year relationship with us and making sure warranty service is fast and painless involves sourcing the right technology and manufacturers for the job.
Will there be an inverter on each panel and/or an inverter box on the ground? If there is a ground inverter how big is it and where would it go?
There will be one on each panel and a central combiner box mounted on the wall near your main electrical panel. The combiner box is about 15" x 15" x 8".
Is the inverter you are recommending storage ready – meaning can we add batteries in the future?
Yes. Solar batteries can be added at any point in the future and all our installs are wired in a way that makes adding a battery easier later on. We believe most solar owners in California will have a battery as solar battery prices continue to drop.
Is there a good reason to spend the money now to add batteries to the system – or can we add these at a later date?
Unless you frequently experience blackouts in your area or you have a medical need for constant power, we would recommend waiting a bit for solar battery prices to drop and for new offerings to enter the market in the next 1-2 years.
Assuming SCE credits us for extra power and we can then pull this when we need it – why would we need a battery system?
Credits will not matter during a blackout and the credit you do receive is not dollar for dollar. The best way to make the most of your solar energy is to consume as much of it yourself as possible. Batteries give you the chance to use the energy you produce in the day at nighttime when your panels are not producing and saves you from having to draw that power from SCE during the more expensive peak periods.
How does a solar system operate when there is a power outage? Are we down when SCE is down because we store power with them or does our system (without batteries) have some power stored to get us through the outage?
All solar energy systems without batteries will shut down during a power outage. This is a safety feature designed to prevent your system from sending live current to the grid where electrical workers may be performing repairs. Only certain solar battery systems with islanding capability will allow your solar to continue operation during an outage.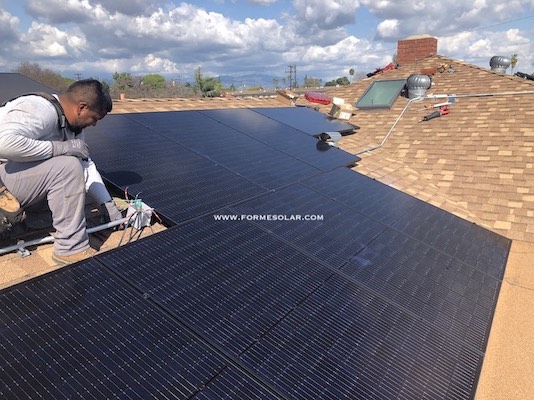 Best Home Solar Company in California
In California, it seems like increasing electricity costs and planned power outages are unavoidable. Forme Solar can help keep your home safe from power outages and create a predictable bill. Our licensed and professional technicians will work swiftly and efficiently to install your solar panels. And guarantee that your solar energy system is working accurately. We offer solar panel installation services for residential and commercial properties to protect save money and protect against power outages.