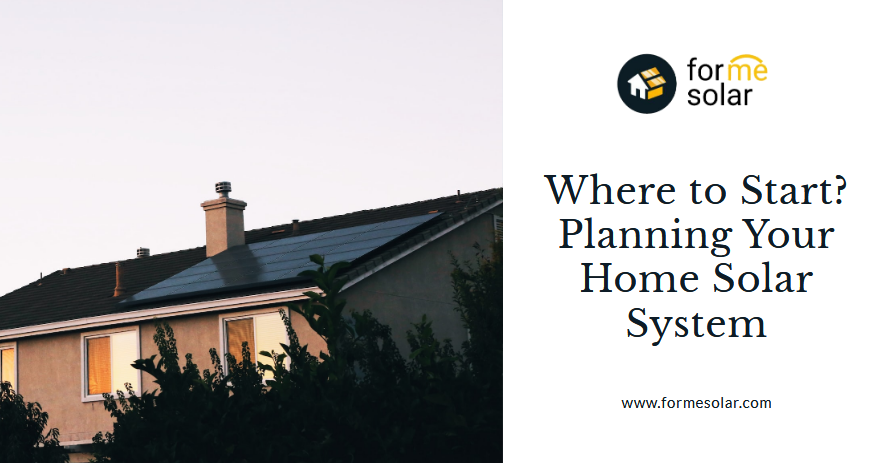 Where to Start? Planning Your Home Solar System
The general public is becoming more aware of viable alternatives to traditional energy sources, such as solar power. Solar energy has become an appealing alternative for individuals worried about the environment as well as their personal pockets; but, with the current state of the economy and employment market, most people believe they do not have the funds to invest in solar panels at this time. Fortunately, there are other options available: cheap and easy solar alternatives that require little investment and can be used anywhere there is plenty of sunlight.
When preparing to power your home with solar energy, there are several measures to take. After determining which solar option is best for you, proceed with the steps that apply to you. More information on the specific procedures you will need to take to power your house with solar energy may be obtained from your solar energy installer and local utility provider.
Evaluate the Energy Efficiency of Your Home
Examine the following resources to lower your power consumption:
Audits of home energy use: A home energy audit may help you determine the causes of energy loss in your house and how to increase its efficiency.
Electronics and appliances: Make better use of your appliances and devices, or consider investing in high-efficiency goods.
Lighting: Use energy-saving lighting, such as LED light bulbs.
Heating and cooling: If you use electricity to keep your house cool and warm, the quantity of solar energy you need will be highly influenced by your heating and cooling requirements.
By weatherizing your home and installing efficient heating and cooling systems, you can reduce the amount of electricity you need to produce with solar.
Evaluate Your Solar Capacity
Before you decide how to use solar energy at home, assess the level of solar resource that exists on your property. Because photovoltaic technologies generate power from both direct and dispersed sunlight, there is a sufficient possibility for household solar electric systems across the United States.
The amount of electricity created by a solar energy system at a certain location, on the other hand, is determined by how much of the sun's energy reaches it and the size of the system itself.
There are several mapping programs and tools available to assist you in determining your home's solar energy potential. Some sites also include estimates for system size, prospective expenses and savings, and local contractors.
These tools are a good place to start when considering whether to install solar power in your home. They do not, however, take into consideration all of the aspects that must be addressed, therefore you will need to engage directly with a solar installer who can offer an exact assessment of your system's potential as well as specific advice, estimates, and equipment knowledge.
Consider the following:
Shaded Trees. Contractors will also help you in evaluating shadowing, but you should also consider your own or your neighbor's trees that are still developing and may shade your system in the future.
The age of your roof and how long it will be before it has to be replaced. If you anticipate needing a new roof within the next few years, consider installing solar before you make that decision.
HOA. Some states now have "solar rights laws" that limit HOAs' authority to ban solar installations or access to solar. These rules vary by state and municipality; see your HOA agreements and state legislation.
Review Your Solar Energy Options
If you want to go solar, you no longer have to buy and install a system that you totally own and operate. Even if you rent your house or do not want to invest in a rooftop system, there are several programs that will allow you to profit from solar energy.
Below are a few options for using solar energy at home; contact local installers and your utility for programs available in your area.
Investing in a Solar Energy System
When a solar program is unavailable or unfeasible, purchasing a solar energy system with cash or a loan is the best alternative for maximizing the financial advantages of installing solar panels, taking advantage of tax credits, and increasing the market value of your house.
The solar installer will connect the system to the grid and get a utility interconnection permit. When the PV system creates more power than the house needs, the customer is frequently able to sell the extra electricity back to the grid. When a home's electrical use exceeds its capacity, it takes power from the grid as usual.
Community or Shared Solar
Because they rent or have insufficient roof space, over half of all U.S. residences are unable to host a rooftop solar system. If you can't host a rooftop system, you can invest in a community or shared solar scheme. These programs allow a group of members to pool their purchasing power in order to purchase solar at a level that meets their demands and budget. The system can be on-site or off-site and owned by utilities, a solar developer, non-profit organizations, or a group of community members.
Solar Leases
You can utilize the power generated by a solar energy system if you lease it, but the PV system equipment is owned by someone else—a third party. The consumer then pays for the equipment to be leased. Solar leases sometimes include low initial investment and fixed monthly payments over a specific length of time. Under a lease agreement, homeowners often pay the developer a set monthly charge for the equipment, which is based on the expected quantity of power produced by the system. This price is frequently less expensive than their initial power bill.
Power Purchase Agreements (Ppa)
PPAs allow users to host solar energy systems owned by solar businesses and purchase the power produced. This is a financial arrangement in which a developer arranges for the design, permitting, financing, and the installation of a product on a consumer's property for little to no cost. The host customer agrees to purchase the system's generated power at a fixed price per kilowatt-hour of energy produced during the system's lifetime. Solar power is frequently less expensive to acquire than the retail rate of the local utility.
Solar Programs
A Solarize program is one of the most cost-effective methods for communities to adopt solar. Solarize programs enable a locally organized group of homes and businesses to pool their purchasing power in order to pick an installation competitively and negotiate lower costs. This bulk purchase allows more individuals to adopt solar since the group model simplifies the procedure, stimulates demand for solar, and decreases installation costs.
Get an Estimate of Your Solar Electricity Requirements
Gather information about your house and power consumption to help your contractor in making suggestions for the kind and size of your system.
Check your power invoices to establish your yearly electricity demands. Your consumption will be displayed in kilowatt-hours (kWh). Check each month of the year; certain months may require more power than others (e.g., if you run the air conditioner in the summer). Some utilities include tools to assist with this review.
Take into account any proposed adjustments. Your power demands may increase if you plan to buy an electric vehicle or build an addition to your house. If you continue to make major modifications to increase the energy efficiency of your house, you may require less power than you did previously.
Request quotes and site evaluations from installers who specialize in solar installations.
Be careful to choose licensed, insured, and certified installers while doing your research. The North American Board of Certified Energy Practitioners' accreditation is the gold standard for the solar business. You may also look for reviews online and get referrals from friends and family who have just switched to solar power. Before working with an installer, get documentation of their license before making any commitments.
Consider asking the following question to installers while conducting an interview:
Are you familiar with local permitting and interconnection processes? It can frequently take a long time to get a building permit and get approval to interconnect. Making sure the technician is knowledgeable about these regional procedures will guarantee that your system is installed and connected quickly.
Can you provide references from previous customers in your area? Ask other local customers about any difficulties they may have had and how the business was able to help them.
Are you licensed or certified? A licensed installer should be used to install PV systems. This often denotes the possession of an electrical contractor's license by the installation or a subcontractor. You may find out if a contractor has a valid electrician's license by contacting your state electrical board. It may also be necessary for the installation to have a general contractor's license, according to local building agencies. You may find out more about licensing by calling the city or county where you currently reside. In order to get lower system pricing, solar programs could also require you to deal with a certain installer.
What kind of warranty is offered for this system? Who is responsible for the system's maintenance and operation? A typical industry warranty covers the majority of solar equipment (often 20 years for solar panels and 10 years for inverters). Making sure the system is covered by a robust warranty is frequently a sign that the installation is utilizing high-quality machinery. The homeowner should also decide who is in charge of providing adequate system maintenance and repairs. The majority of lease and PPA agreements mandate that the installer perform system maintenance, and many installers provide affordable O&M plans for host-owned systems.
Are there any lawsuits or liens against the business that are now active or pending? Due diligence is advised for every project involving a contractor. You may learn about any verdicts or complaints made against a state-licensed electrician via your state electrical board. Customers who want advice on how to evaluate contractors may contact their local city and county. Another resource for information is the Better Business Bureau.
Know the Financing Options and Incentives Available
Through 2019, small solar energy installations are entitled to a 30% federal tax credit. The tax credit ends on December 31, 2021, and it drops to 26% in 2020 and 22% in 2021.
Remember that you won't qualify for this tax benefit if you choose a solar lease or power-purchase agreement because you won't be the owner of the solar energy system.
You can search on the Database of State Incentives for Renewables and Efficiency for more state, municipal, or utility incentives (DSIRE).
In addition to incentives, check all available solar financing options. Every situation is unique, and what is best for your property is determined by a variety of criteria. The Clean Energy States Alliance handbook helps homeowners in understanding their choice by presenting the benefits and drawbacks of each.
Work with Your Solar Installer
If you decide to install a solar energy system, your installer should be able to assist you in obtaining any permits and licenses that are necessary.
They will select the best size for your system. The size will be decided by your electricity requirements as well as the following:
The solar resource or available sunshine at the place
The alignment and tilt of the system
The system's ability to convert sunlight into power.
Other sources of power include utilities, wind turbines, and fossil fuel generators.
Your solar installer will make sure that every piece of equipment is properly mounted, positioned, and tilted to optimize the daily and seasonal solar energy collected and generated by your system. Make certain you understand how electrical expenses are calculated and what additional fees you may be required to pay.