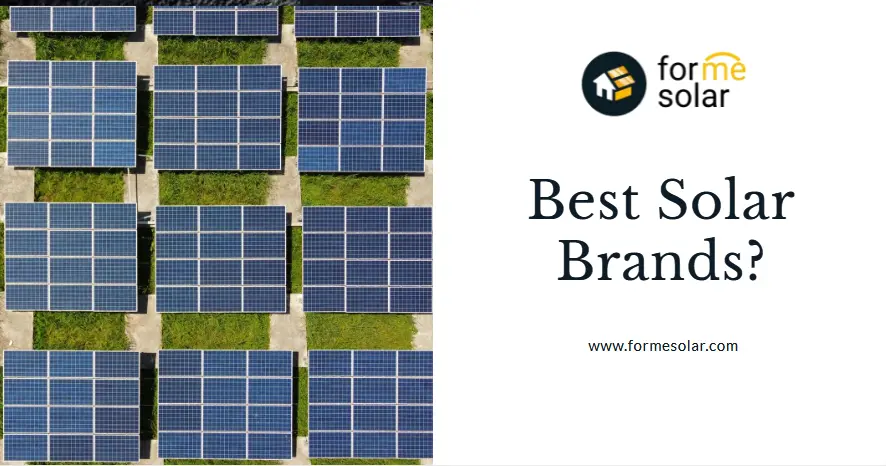 Best Solar Brands?
There is a wide range of solar panels on the market right now – in fact, there are more than a hundred unique brands of solar panels and other solar equipment on the market at any particular time.
Competition is huge in any industry, but it can sometimes be too much of a good thing. With so many possibilities, how can a homeowner pick which solar panel is ideal for their home?
That question is answered in this article. It's a detailed reference to the finest solar panels on the market, created to assist customers – homeowners like you – in finding the best solar panels for their requirements.
This article will rank the leading home solar panels based on materials, price, efficiency, and other factors. Because every home is unique, there is no single optimum solar panel for every system. It is critical for homeowners to examine their particular demands and choose the appropriate solar panels to meet their household energy requirements.
If you're looking for a more in-depth view, look at the rest of the ranks on this page. It will tell you, among other things, which panels are the most efficient, which are ideal for individuals on a budget, and which brands are made in the United States.
Good luck with your solar panel hunt!
The Leading solar panels overall
The first step for people who want to use solar energy is to put together a solar energy system. In most cases, this system will comprise batteries, an inverter, and, of course, a solar panel array. These are the best solar panels for household usage, based on characteristics including efficacy, longevity, warranty, price point, and temperature coefficient.
| | | |
| --- | --- | --- |
| Solar panel brand | Panel category | What the experts like |
| Panasonic | Premium | Outstanding specs, including the best temperature coefficient (heat performance). Best Warranties. |
| LG | Premium | Strong reputation for high-quality solar panels. |
| Canadian Solar | Value | Lower cost means great value for the money. |
| Q CELLS | Best Value | Best Overall Value Panel. Great quality, leading warranties and cheaper price point. |
| Trina Solar | Value | Solid all-around performance at a cheaper price point |
| SunPower | Premium | The most efficient solar panels on the market |
Because solar panels would last longer, it is important that the brand will be available to service any warranty claims made over the panel's 25-year lifespan.
We classified the finest solar panels into two categories: premium solar panels and value solar panel brands.
Panasonic, LG, and SunPower are among the top premium panel manufacturers.
Premium solar panels are high-quality panels with top-of-the-line features – and a premium price tag. Panasonic, LG, and SunPower are our top picks in the premium solar panel category.
All three businesses provide high-performance modules with greater craftsmanship, higher efficiency ratings, better temperature coefficients, reduced degradation rates, and industry-leading 25-year product warranties.
Panasonic and LG solar panels are our top picks. Aside from being outstanding panels, they get bonus marks for being made by big companies. Both businesses are recognized for their strong production standards and are almost assured to be there to satisfy any warranty claims in the future. This indicates that they are Tier 1 solar panel manufacturers.
When comparing the two, Panasonic solar panels have a minor advantage in terms of specifications, while LG panels have a slight pricing advantage.
Meanwhile, SunPower's panels are the finest in the industry in terms of efficiency and performance, even better than Panasonic's and LG's, yet the company was only placed fifth.
Why? SunPower's score falls as a result of its poor financial situation and extremely expensive price point. We'll be watching to see how things evolve as SunPower spins off its manufacturing division into a new company called Maxeon Solar.
Canadian Solar and Trina Solar are two of the best value panels available.
Canadian Solar and Trina Solar are two more companies on this list that sell Chinese* panels at a low cost.
Both businesses provide high-quality panels with characteristics that are comparable to the best premium solar panels on the market. The primary difference is in pricing; they are far less expensive than premium solar panels, frequently saving consumers hundreds or even thousands of dollars in upfront fees.
The warranties provided by Canadian Solar and Trina Solar are a significant disadvantage. They both provide 12-year product guarantees; while this is higher than the industry standard of 10 years, it is still much less than the 25-year warranty provided by premium panels.
*Despite being located in and named after Canada, Canadian Solar is considered a Chinese corporation due to its extensive ties with China.
The most energy-efficient solar panels available on the market
Solar panel efficiency describes how much of the sunlight that hits a solar panel is turned into energy by its constituent's solar cells.
Most buyers are interested in learning which solar panels have the greatest efficiency ratings.
Following is a list of the five most efficient solar panels based on an analysis of all commercially available solar panel models in the United States.
| | | | |
| --- | --- | --- | --- |
| Manufacturer | Model* | Power output** | Efficiency |
| SunPower | A-Series | 425 W | 22.80% |
| LG | NeON R Ace | 405 W | 22.30% |
| REC Group | Alpha Pure | 405 W | 21.90% |
| Panasonic | Evervolt | 370 W | 21.20% |
| JA Solar | JAM60S20 | 390 W | 21.00% |
Warning: the benefit of having high-efficiency panels is widely overstated. In truth, you should only be concerned with solar panel efficiency if you have limited roof space. This is due to the fact that all solar panel efficiency reflects is the amount of area required by the panel to produce electricity. The higher the efficiency of the solar panel, the less space it will occupy on your roof.
Solar Tip: When comparing solar quotes, the cost/watt is a better gauge than efficiency to ensure you are maximizing the value of solar. Don't pay for a Ferrari if all you need is a Toyota.
The top solar panels in terms of cost-effectiveness
Our ranking of the top value solar panel brands is dominated by Asian manufacturers. Each one of these companies is substantial and has a solid reputation for high-quality manufacturing:
Canadian Solar Inc.
Trina Solar
Q CELLS (Quantum Cells)
Jinko Solar Inc.
Seraphim
Get the best panels installed by the best solar companies
Every solar panel on this page is a high-quality, Tier 1 solar panel brand, regardless of its rating. Installing a solar power system with any of these solar panels should result in an efficient, high-performance arrangement that will power your home for at least 25 years.
Choosing the best solar equipment is only one part of the equation. Choosing the correct solar business to install the solar equipment is just as crucial, if not more so.
The solar installation company is in charge of creating a system that suits your requirements, and they will also be your point of contact for any performance or warranty issues that arise. Make certain that the firm you select is among the top solar installers in your area.