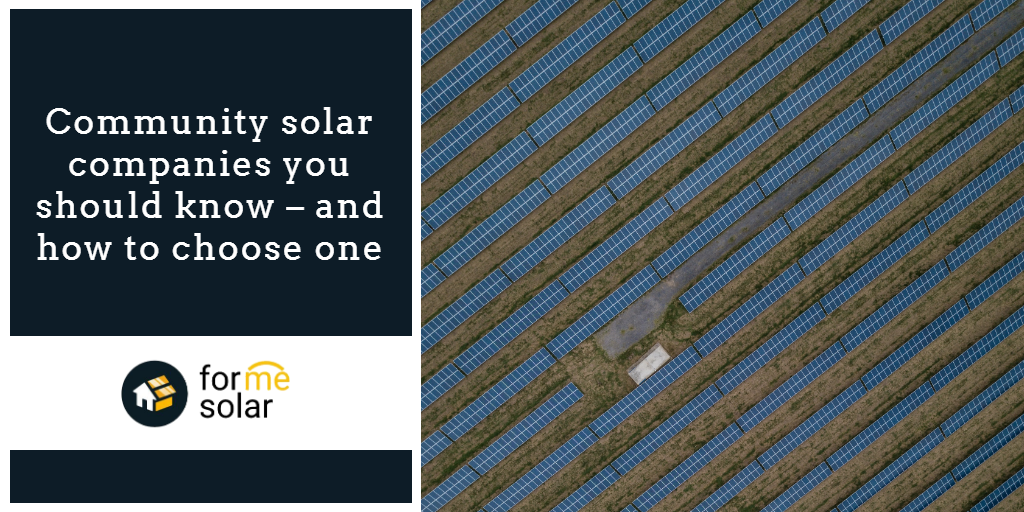 Community solar companies you should know – and how to choose one
To decrease your carbon footprint and save money on electricity bills, let's say you wish to start paying a monthly subscription to a community solar project. What factors should you consider to choose which community solar company is right for you? In this post, we'll go over how you can choose the best community solar company and solar providers to start cutting your energy costs.
How to Assess Community Solar Providers
It could be challenging to choose a community solar project if you are living in a region with several nearby ones. You can compare local project suppliers in the following ways:
Savings percentage
If you're signing up for a community solar project, you're probably hoping to save money, therefore the savings percentage should be front of mind! This value represents the fixed energy discount provided by your project supplier. The savings reduction may vary based on the community solar business and the exact project you pick, but you can normally expect a bill credit of 10-20%.
Keep in mind that this isn't the actual money you'll save each month because the amount of power you utilize (and are then charged for by your utility provider) varies. Furthermore, the amount of electricity generated by your part of the community solar project varies – you'll probably save more in some months and less in others.
Cancellation terms
If you rent or still aren't living in your forever home, you may need to terminate your community solar subscription. While subscriptions are occasionally transferable to new residences, it is dependent on whether you are relocating to the same energy service area as your existing property.
Most community solar businesses will let you cancel without penalty, but you have to provide at least 30 days' notice (about 30 to 90 days).
Credit score requirement
In order to join up for their projects, several community solar businesses demand applicants to have a certain credit score. The reason for this requirement is that the project's investors want to see a return on their investment, and one aspect they frequently consider when making this decision is how likely you are to miss a payment on a bill.
A lot of people, particularly those in low and moderate-income (LMI) neighborhoods may be discouraged from signing up for community solar since their credit score isn't the only (or even the most accurate) measure of their capacity to pay their bills. Therefore, you should check your provider's credit score criteria if your credit score is on the lower side.
Organization affiliation
The Coalition for Community Solar Access (CCSA) describes itself as a "national coalition of companies and non-profits aiming to increase consumer choice and access to solar for all American families and businesses through community solar."
Check to see if your community solar supplier is a member of CCSA, as these companies all work together to enhance the industry. Members of the CCSA are divided into four categories: leadership members, general members, utility-affiliated members, and non-profit members.
Ratings & reviews
Checking out ratings and reviews from current or prior customers is one of the finest methods to get a sense of a company. You may read evaluations from people who have previously subscribed to projects through any community solar company on their websites.
Community Solar Companies Existing
There are several community solar companies available, and the ones accessible to you will differ significantly depending on where you live – however, we've collected a list of some of the most well-known community solar companies and will explain how each compares:
Community Solar Companies
| | | | | | |
| --- | --- | --- | --- | --- | --- |
| COMPANY | PROJECT LOCATIONS | SAVINGS PERCENTAGE | CANCELLATION TERMS | CREDIT SCORE REQUIREMENT | ORGANIZATION AFFILIATION |
| Solsticeolstice | IL, MA, MN, NJ, NY, D.C. | 10-20% | No fee | Some projects Minimum score of 650 | CCSA non-profit member |
| Nexamp | Across the country | 10-15% | No fee | No credit check required | CCSA leadership member |
| Ampion | Across the country | 10-15% | No fee | Minimum score of 600 | CCSA general member |
| Arcadia | Across the country | 5-10% | No fee | No credit check required | CCSA leadership member |
| Common Energy | Across the country | 0.1 | No fee | Minimum score of 650 | Not a CCSA member |
Community Solar Companies
Solstice
Solstice is a community solar provider founded in 2016 that presently operates in five states (Illinois, Massachusetts, Minnesota, New Jersey, and New York) as well as Washington, D.C.
Solstice projects can save anywhere between 10% and 20%.
There are no cancellation fees at Solstice.
Some Solstice projects have a 650 minimum credit score requirement, while others don't.
Solstice is a CCSA non-profit member.
Nexamp
In 2007, two Americans created Nexamp. Building and running projects around the nation, community solar developers and providers are both former soldiers. What you need to know about Nexamp is as follows:
Nexamp projects can save somewhere between 10% and 15%.
There are no cancellation fees with Nexamp.
Nexamp projects don't require a credit check.
Nexamp i is a CCSA leadership member.
Ampion
Ampion was founded in 2014 and offers community solar for projects all throughout the country. What you should know about Ampion is as follows:
Ampion projects can save anywhere between 10% and 15%.
There are no cancellation charges for Ampion projects.
Ampion projects demand a credit score of at least 600.
Ampion is a general member of the CCSA.
Arcadia
Arcadia, which was established in 2016, provides community solar in several different states. Here are some details about Arcadia:
Arcadia projects can save anywhere from 5% and 10%.
There are no cancellation charges at Arcadia.
For Arcadia projects, no credit check is necessary.
Arcadia is a part of the CCSA leadership.
Common Energy
Since its founding in 2018, Common Energy has provided community solar to projects all around the country, and it is swiftly expanding its list of participating states. Here are a few details on common energy:
Savings for projects involving Common Energy are around 10%.
Projects with Common Energy don't charge cancellation fees.
For Common Energy projects, a credit score of 650 is necessary.
Common Energy is not a part of the CCSA.
What are Some Other Options for Selecting a Community Solar Project?
Aside from the project provider, there are a few additional factors to consider when selecting a community solar project. For one thing, you'll want to know when the project will go live – some community solar projects may be accessible now, while others may require you to wait until the project is done, which might take a few weeks to several months.
The project's location may also be important to you since it supports local jobs in your area more strongly the closer it is to you. You might wish to give projects close to your house priority if this is important to you.
What's the Catch With Community Solar, Exactly?
This question lacks a definite response. Some claim that because community solar projects depend on a single site and cannot be tailored to each home, they may be less effective than individual rooftop solar panels. Others counter that community solar is more expensive than the money you save on your power bill. It is ultimately up to the person to examine the contracts, and the solar project, and make a determination regarding whether the advantages of community solar exceed any possible disadvantages.