New Years Resolution to Go Solar in 2020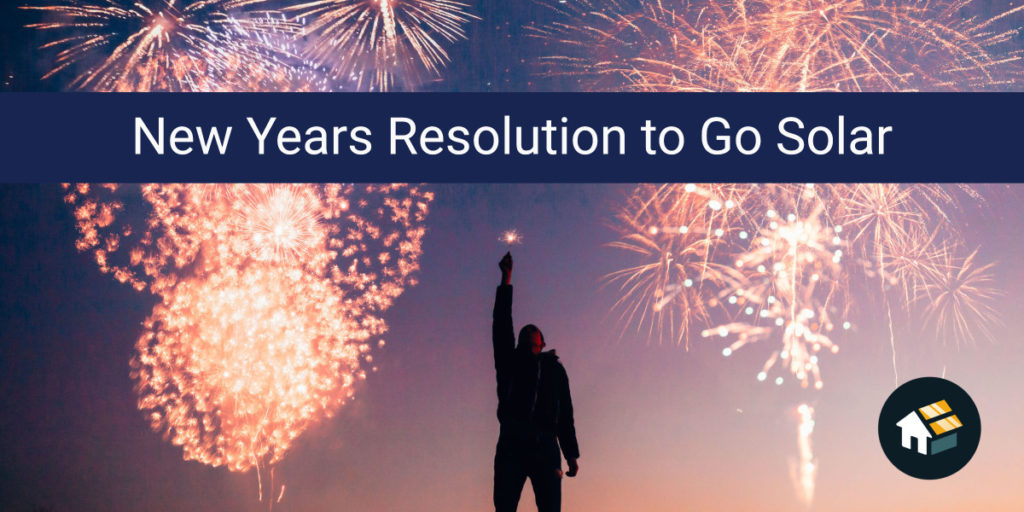 If your 2020 New Years Resolution is around saving money or the environment, there is no better way than to go solar. From the exciting developments around the Tesla Cybertruck and Greta Thunberg help highlight how the world is changing towards renewable energy like electricity generated from solar.
With how the price of solar panels has stabilized in the past few years, it has become a great time to go solar. According to Forbes, renewable energy will be consistently cheaper than fossil fuels, and if you want to leverage the federal tax credit for solar, you should go solar in 2020. The tax credit is being phased down for both residential and commercial solar energy systems in 2020, the tax credit amount and has been reduced from 30% to 26%.
The Federal Tax Credit for Solar Energy Systems
The federal tax credit for solar is at 26% if you go solar before the end of 2020. To be eligible for the Solar Investment Tax Credit (ITC), a Federal Tax credit, your solar energy system must be operational by December 31st, 2020. For this reason, it is better to act sooner than later. If you wait until 2021 to install your solar system, the tax credit will be reduced to 22%, 10%, and in 2022, the Federal Tax Credit for homeowners will then be phased out entirely.
If you are looking to purchase your system, when you decide to go solar will make a substantial difference. We always recommend that you consult a qualified tax expert around tax advice. A qualified tax expert will best understand your current financial situation and give you relevant advice that best matches your goals.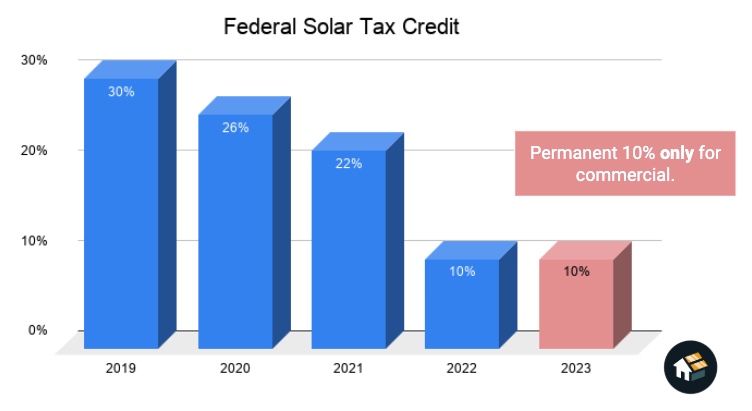 If you go solar in 2020 and your system costs $25,000, you will get a 26% tax credit and be eligible for a $6,500 tax credit. ($25,000 * 26 percent = $6,500)
If you go solar in 2021, that same costing system will only be eligible for 22%, which means a $5,500 tax credit. But for homeowners to wait until 2022, it then drops to 10%, which would be a tax credit of $2,500.
Going solar today will save you money by replacing your current electric bill with a cheaper one. By resolving to go solar in 2020, you reduce your dependence on expensive electricity from the grid.
Protection For California Homeowners from Rate Increases & Outages
One of the primary reasons people go solar is to reduce their dependency on expensive electricity from the grid. To meet the state of California's sustainability energy standard that is calling for a 100% (percent) renewable energy by 2045, California's utility companies are building new infrastructure. Yet this infrastructure development isn't being paid out by the utility company's profits. They are paid out by homeowners who pay electric bills. That is why we have seen such substantial increases in the cost of our electricity across all California utility companies like, San Diego Gas & Electric (SDG&E), Southern California Edison (SCE), LADWP (Los Angeles Department of Water and Power), and PG&E (Pacific Gas & Electric).
Getting solar for your home can make a lot of sense for those with a high electric bill. With a higher electricity bill, you will typically see greater savings. A solar panel system may not completely eliminate your utility bill, but by properly managing your power usage and sizing the solar energy system correctly, that bill will be substantially reduced.
The devastating fires such as the one that impacted Mendocino Complex and Paradise have impacted the way our utility companies prepare for fire season by preemptively implementing a power outage. Starting in 2019, California utility companies like PG&E decided to reduce the risk of a wildfire by shutting off power to high-risk transmission-line areas on high fire-risk days. We started to see the preventative blackouts implemented by California's largest public utility, PG&E and quickly saw other major utility companies like San Diego Gas & Electric (SDG&E), Southern California Edison (SCE) following in suit. This practice is likely to open up the window for more and more widespread extended blackouts all across California. In addition, to the unplanned power outages, these planned outages can leave homeowners and businesses without power for days, even weeks.
Getting Ready to Sell Your Home?
The most important consideration for most homeowners considering solar is the impact going solar will have on their homes. That fear of the unknown around how solar impacts your home sale and value is what makes adopting a solar PV system so tricky. By installing solar panels on your roof, you will improve your home value in numerous ways. As a home buyer, if you saw two identical properties, wouldn't you pay more for a home that costs less to operate? When you install solar panels on your home's roof, you can not only add value to your home, but you may also help it sell faster as well. An analysis done by a government-backed study from the Berkeley Lab showed that solar had a 3.74% positive impact on the average sale price for homes with a solar energy system. For a home in California that costs $700,000, a 3.74% (percent) increase would mean a $26,180 increase in your home equity. Would you prefer to sell your home for $700,000 or $726,180?
In general, the more environmentally conscious a community is, the more value solar may add to your home. Homeowners in areas like San Francisco, San Diego, Orange County, and Los Angeles are typically more prone to be environmentally conscious.
HAVE QUESTIONS?
We're here to help! We know that the topic of solar energy is somewhat complicated, so we've even put together a series of commonly asked Solar FAQs.
Here to help your New Years Resolution to go Solar in 2020
If your 2020 New Years Resolution is around saving money or the environment, there is no better way than to go solar. Forme Solar can ensure that you go solar with confidence. At Forme Solar, we geek out on craftsmanship of solar energy which is at the heart of each solar battery installation. We take a solar battery first approach and specialize in ensuring that your home continues to run seamlessly whether or not a power outage occurs. With excellence being the passing, grade we ensure that we produce a great experience for all of our customers who go solar. When you're looking for a qualified licensed solar installation and solar repair near Los Angeles, San Diego, Orange County, San Bernardino, and Riverside area, call Forme Solar at 714) 694-2262 or request a quote