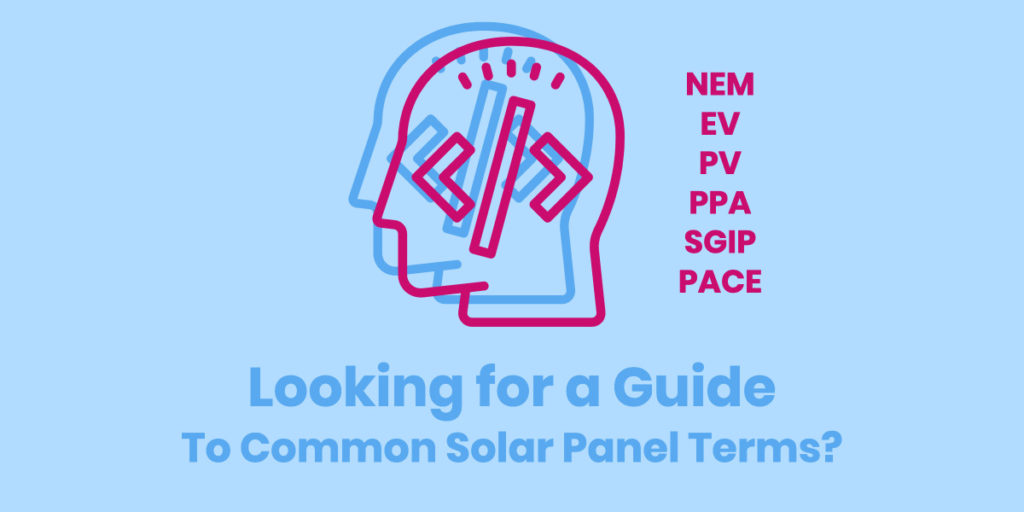 Commonly Used Solar Terms and Acronyms
Just today, a customer asked what PV stood for.
Researching this post, was the first time I discovered what ESS stood for. (ESS = "Energy Storage System," by the way!). We found that there are so many acronyms and abbreviations related to Solar PV Systems that can potentially create confusion or make you wonder what someone was talking about.
We've collected over 20 solar acronyms and abbreviations and placed them here, complete with definitions and quick navigations to help provide greater clarity around going solar.
Common Solar Specific Terms and Acronym Guide
General Terms and Acronyms around Solar
kWh (or Kw h) – Stands for kilowatt-hour. It is a unit of energy used to measure the amount of electricity either consumed or generated. It is the unit of measurement for how utility companies measure how much electricity was sent to a home or commercial building from an electric utility.

DC – Direct Current. When using solar, your solar panels will capture Direct Current (DC) power from the sun. Your solar battery backup solution will also store energy in the form of DC electricity. In order for solar to be able to power your home, the DC power from your solar PV system is converted into AC power through inverters.

AC – Alternating Current. This is a type of electricity that is used on the grid and in most household devices. An inverter is required to convert the Direct Current (DC) electricity from solar PV systems into AC electricity.

EV – Electric Vehicles. One of the biggest drivers of sustainability in California is the commitment towards the adoption of Electric Vehicles. These are vehicles that are powered through a battery, solar panels, or an electric generator. Popular examples of an electric vehicle include the Tesla Model S, Tesla Model X, BMW i8, BMW i3, Audi A3 E-Tron
Solar Related Acronyms and Terms
NEM – Net Energy Metering. Net Energy Metering is a billing option for individuals who produce their own energy and go solar. Under this option, customers are charged once a year for the "net" energy consumed over the previous 12 months.

ITC – Investment Tax Credit. Also commonly known as the Federal Solar Tax Credit. 2019 marks the last year for the 30% Income Tax Credit for projects that improve energy efficiency and lower the carbon footprint of residential and commercial buildings. With each passing year, this credit gets smaller and will eventually level out to 10%.

PPA – Power Purchase Agreement. A Solar PPA is a solar financing option that provides immediate cost savings with no money down. It allows the purchaser to skip the upfront costs and lock in low rates for solar electricity for up to 25 years. It is important to note that with a PPA, you don't own the system so the Investment Tax Credit (ITC) cannot be applied.

PACE – Property Assessed Clean Energy. It is a common form of solar financing that aids homeowners, and commercial property owners looking to make improvements in energy efficiency upgrades. PACE financing is a broad program that extends beyond solar and can apply to water conversation, renewable energy, and even disaster preparation. The repayment of this financing loan is achieved through a property owner's annual property tax bill.

PV – Photovoltaic. It is a type of technology commonly associated with solar because it converts sunlight into direct current electricity through the use of semiconductors.

SGIP – Self Generation Incentive Program. California Public Utility Commission (CPUC) provides an incentive to both homeowners and businesses who install qualifying equipment for generating and storing energy.

TOU – Time of Use. This is a rate plan that shifts the energy usage pattern based on the PV generation and utility electricity price.

ESS – Energy Storage System. The system includes a battery and power processing unit like an inverter. A battery backup solution helps you achieve the true dream of going solar. Gain protection from blackouts, and gain independence from the grid.

CL – Critical Load. Household loads supported by the battery system when the grid power is unavailable. With our current technology and prices, an ESS or solar battery backup solution will primarily function to support your most critical electricity consuming devices.
Solar Equipment Related Terms and Acronyms
J-Box – Junction Box. A solar junction box is attached to the back of the solar panel and serves as the output interface. This term can create some confusion because of the typical electrical junction box. Junction boxes are one of the most common areas for solar repair. Due to improper installation, these junction boxes can get flooded or their wires crossed.

EVA – Ethylene Vinyl Acetate. Is part of the encapsulation of a solar panel. It helps protect the solar panels from the environment and provides electrical insulation.

ESS – Energy Storage System (ESS) or battery backup solution. With a battery backup solution, you have the capability to power your home without the reliance of the grid, depending on the total load size and appliance types.

LID – Light Induced Degradation. Exposing solar cells to sunlight quickly leads to significant power degradation of around 6-8%. This is why we oversize systems to offset the LID that occurs in all solar panels.

IC – Interconnection. This is typically the white lines that you see on solar panels.

PID – Potential-Induced Performance Degradation. This is one of the top issues that can occur with your solar panel system, where so-called "stray" electrical power currents do not move in their intended way.

DH – Damp-Heat. A form of solar panel reliability testing that induces stress resulting from high humidity at high temperatures.

TC – Thermal Cycling. One of the most rigorous forms of solar panel reliability testing that induces stress with high and low temperatures.

HF – Humidity Freeze. Solar panel reliability testing that combines damp heat and thermal cycling.
California Utility Specific Solar Acronyms and Terms
CPUC – California Public Utilities Commission. Also commonly referred to as PUC. They are a government agency in California that helps regulate privately owned public utility companies within the state like PG&E, SCE, and SDG&E. Their mission is to help reduce anti-competitive activity and place provisions on raising rates or changes to service by these public utility companies. The high cost of the our utilities and their rate increases are a few of the reasons why going solar in California makes so much sense.

LADWP – Los Angeles Department of Water and Power. They are the largest utility company in the United States that is governed by a city. They serve over 4 million consumers by providing water and power to residents and businesses in Los Angeles.

PG&E – Pacific Gas and Electric. Their service area is roughly 70,000 square miles within California and provides natural gas and electric service to approximately 16 million people. Their service area is typically found in central and Northern California.

SCE – Southern California Edison. Southern California Edison is the primary electricity supplier for most of Southern California. Their service area is roughly 50,000 square miles within California and provides power to more than 14 million people.

BVES – Bear Valley Electric Service. They are a utility company that provides electricity to the Big Bear Valley in the San Bernardino Mountains. Their service area is roughly 2,100 square miles within California. The San Bernardino Mountains has a population of approximately 44,000 people.

SDG&E – San Diego Gas and Electric. They are a utility company in California that provides electricity primarily to San Diego County and parts of Orange County. They provide energy services to roughly 3.3 million people with a geographic reach that spans roughly 4,100 square miles. The cost of electricity in San Diego is one of the highest in the entire country, making San Diego one of the best places for homeowners to go solar.

Basic Commonly Referenced Solar Related Concepts and Terms
Payback Period
Solar Lease
Solar Lease Escalator
Microgrid
Solar Panel Installation Price Transparency | Forme Solar
We know that the only way to have a happy customer is by providing greater transparency into understanding solar. Our goal is to ensure we help our customers become confident, smart, solar shoppers. If you are considering solar panels for your home or commercial building, and are looking to get a quote or answers to a few questions, then click here. If you're local to San Diego, Riverside, Los Angeles, San Bernardino, or Orange County, we can make sure that you get a quality solar panel install at a cost that you can afford. We can also provide a competitive wholesale solar panel install price outside of our local area. Contact us for high quality, low-cost solar panel installation.
Interested to see if going solar can make you money? Call Forme Solar Inc, your San Diego, Riverside, Los Angeles, San Bernardino, and Orange County solar panel specialists, now at (714) 694-2262, to make an appointment with our friendly and knowledgeable staff.