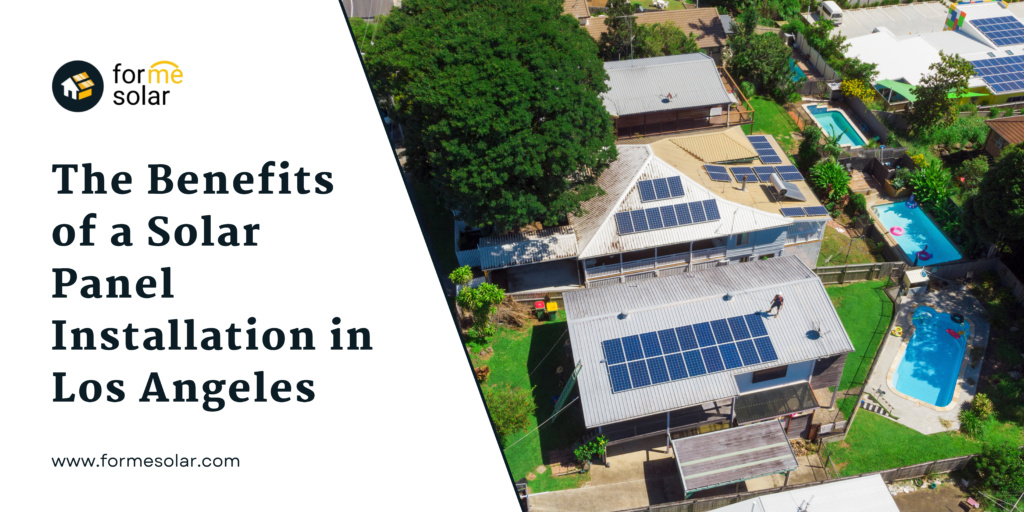 Table of Contents
The Benefits of a Solar Panel Installation in Los Angeles
As energy costs continue to rise, many homeowners and business owners in Los Angeles are turning to solar panels as a solution. In 2023, there are even more benefits to installing solar panels in Los Angeles than ever before. In this blog post, we'll explore the advantages of solar panel installation in Los Angeles in 2023 and why you should consider gssoing solar.
The year 2023 will see the rising awareness of environmental issues, combined with the desire for energy independence. Solar panel installation has become a top priority for homeowners and business owners alike. By harnessing the power of the sun, solar panels can provide significant benefits in terms of cost savings, environmental protection, increased property value, and strong resilience against blackouts.
Cost Savings
One of the most significant benefits of solar panel installation in Los Angeles in 2023 is the cost savings. The cost of solar panel installation has decreased over recent years, making it more accessible for homeowners and business owners. Additionally, California offers several incentives and rebates to encourage the use of solar energy. By investing in solar panels and other renewable resources such as wind turbines or biomass generators, you can save money on your energy bills and reduce your carbon footprint.
Environmental Protection
Solar energy is clean, and renewable and does not emit any harmful pollutants or greenhouse gases. Solar panels can be installed on your home or business to reduce your reliance on fossil fuels and contribute to a more sustainable future. In Los Angeles, where air pollution is a significant issue, going solar can make a significant impact on the environment.
Increased Property Value
Solar panel installation has the potential to increase your property's value. Home buyers and business owners are increasingly interested in properties equipped with solar energy systems, which offer energy savings and environmental benefits. By installing solar panels on your property, you can make it more attractive to potential buyers and increase its overall value.
Stronger Resilience Against Blackouts
With blackouts becoming more common in the United States, there are many reasons the power grid might fail to deliver electricity to your home. Here are a few key things to consider:
The transmission and distribution lines that crisscross the United States are in need of replacement. Although no one is quite sure why, many people believe that the old power lines are responsible for some wildfires.
Climate change is increasing the frequency of wildfires and heat waves in California. Due to the destruction of power infrastructure by wildfires, blackouts are becoming more common.
In a technologically advanced society, we demand more power. The amount of electricity consumed in the United States in 2021 was about 3.9 trillion kWh, or 13 times greater than it was in 1950.
California faced the danger of rolling blackouts throughout the summer due to increased demand for power around the heat wave.
The strain on power grids as a result of all these factors has led to a strained power grid that struggles to keep up with the need for reliable electricity.
Los Angeles Solar Incentives
California has seen a 53% decrease in solar installation prices in the last decade, according to the Department of Energy. Rising electricity bills and more affordable solar options have led many homeowners to see the value in installing solar panels. Here are some examples of how much you can save on your electricity bills:
Going solar in Los Angeles, California
If you're tired of high energy bills and are looking for ways to reduce your carbon footprint and contribute to a more sustainable future, look no further! A lot of energy providers here in California offers a variety of programs and services that would help you be more energy efficient and save money.
Installation Factors to Keep in Mind
Before you decide to invest in solar panels for your home, it's important to do some research and ensure that they are the right choice. Here are some essential installation aspects to consider:
The condition of your roof: The state of your roof is a critical consideration when installing rooftop solar panels. Its dimensions, shape, and inclination can affect the solar system's electricity generation capacity. In case your roof is old or requires maintenance, it may have to be repaired or replaced before solar panel installation. According to the Department of Energy, a solar panel system can reach its peak efficiency on a roof with a slope ranging from 15 to 40 degrees.
Your location: The location of your home is also a crucial factor to take into account. While solar panels can still function in areas with indirect sunlight, they work best when exposed to direct sunlight for a minimum of four hours per day. Los Angeles, for instance, enjoys an average of 283 sunny days annually, surpassing the national average of 205 sunny days. However, if your residence is mostly covered by shade, a solar panel system will not generate as much electricity as it would in direct sunlight.
Are there any regulations from HOAs or neighborhoods that could impact your solar panel installation plans? Luckily, in California, HOAs and neighborhoods cannot ban the use of rooftop solar panels due to state law. However, it's essential to check if your neighborhood has any specific aesthetic or installation requirements before signing a contract to ensure compliance.
Do you rent your home? If you live in an apartment or rented house, there may be restrictions against installing solar panels. It's best to check with your landlord or rental management company if solar panels are permitted. If not, community solar programs offer an alternative to rooftop solar installations. These programs enable you to subscribe to solar panel-generated energy from a different location and receive a credit on your energy bills. The subscription fee is set at a lower rate than your credit value, which means you save each month. With new regulations in place, the use of community solar is expected to expand quickly across California.
Solar Services in Los Angeles
Forme Solar offers a full range of solar install and repair services in Fountain Valley, Anaheim, Cypress, La Mirada, Yorba Linda, Westminister, Irvine, La Habra, Los Alamitos, Laguna Hills, Dana Point, Fullerton, Cypress, Aliso Viejo, Cerritos, Whittier, Lake Forest, Villa Park, Irvine, and surrounding areas.
Living in California, we are lucky enough to receive an abundance of sunshine, making it an ideal place to harness the power of solar energy. And at Forme Solar, we are committed to providing you with the most efficient and cost-effective solar solutions to help you save money while reducing your carbon footprint.
Conclusion
Solar power has proven to be an affordable and environmentally friendly alternative to the standard means of powering a home. With the proper installation, you can collect and harness the energy for your own use, helping to minimize your carbon footprint and preserve our planet for future generations. Take advantage of solar panel installation in Los Angeles in 2023 for the best energy savings available today. Contact us to learn more about the options available to you and take the first step towards a more sustainable future.