Orange County Solar Guide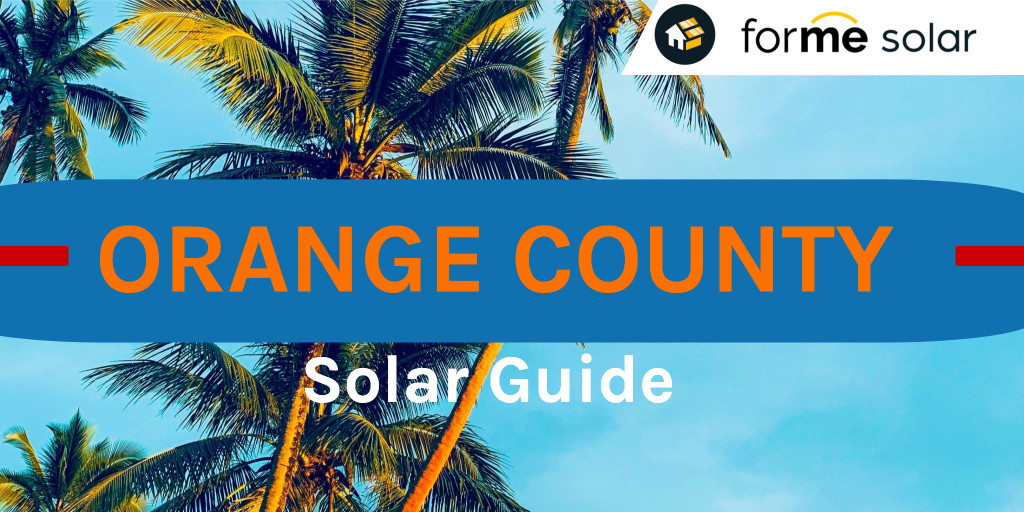 Orange County (OC) solar panels have gained in popularity because of some significant catalysts. With the cost of solar installations getting lower and as demand for power increases, homeowners are making the smart move of going solar.
Take advantage of the low prices, utility rebates, and federal incentives and help promote clean power by reducing your carbon footprint. A move towards renewable energy is good for homeowners, the solar industry, the economy, and good for the environment.
As an end-to-end solar company, Forme Solar Electric provides some of the best solar solutions available. Going solar will save you money, and you can reduce and even eliminate your monthly electric bill. 
Benefits of using solar energy in Orange County
If you are confused about whether solar panels make sense in Orange County or not, you should consider the benefits. While driving around Orange County, you will notice more and more rooftop solar panel systems. Here are some of the reasons why California is quickly becoming a clean energy revolution state:
Solar Saves you Money on Electricity Costs
Going solar will save you money. By offsetting the cost of your expensive electricity bill. The purchase of a custom solar energy system has incentives and rebates that offset the upfront costs. Even if you consider financing, switching to solar as a renewable energy source will reduce your energy bills. Business owners considering solar may reap additional benefits by leveraging depreciation for their tax deductions. And with the cost of electricity rapidly increasing every year, reducing your monthly energy costs can be an excellent investment.
The two utilities that support the energy grid in Orange County are Southern California Edison (SCE) and San Diego Gas & Electric (SDG&E). Both have a clean energy connection program known as Net Energy Metering (NEM). Net Energy Metering is a clean energy economy that allows you to sell back the surplus energy generated from your solar panels in the form of credits.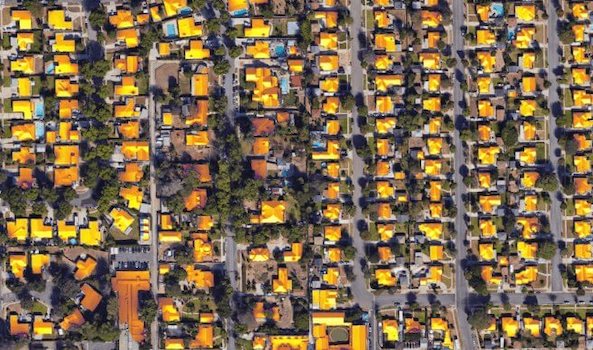 Residential solar panels have a high upfront cost but most Orange County homeowners typically see a break even on their investment within 5-7 years. Afterward, it will provide you with free electricity for years
Orange County Solar Installation Increases Property Value
Investing in a solar panel system will increase the resale value of your home. For a typical residential rooftop solar panel system, the increase in the resale value of the house will more than cover the total costs of installing the system. Adding a solar system is considered an upgrade like other home renovations. According to the Department of Energy, home buyers are willing to pay a premium, and homes with solar tend to sell as much as 20 percent faster than homes without. And beyond that, the reduction in energy costs continues to produce excellent returns on the investment, saving thousands of dollars for many more years.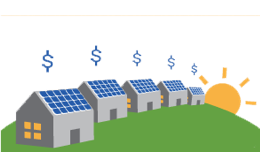 According to the National Renewable Energy Laboratory Study (NREL), homeowners who install solar see an increase in their property value by approximately $20 (twenty) dollars for every $1 saved in electricity costs. Buyers are willing to pay more for a home with a lower monthly operating cost. Making a mortgage payment more affordable. According to the Lawrence Berkely Lab's study, the rise in property value is approximately four dollars per watt on average.
A 8 kW system or 8,000 Watts will fetch around $32,000 in increased resell value. So one kilowatt (kW) equals 1,000 watts times 4 giving every kW a $4,000 increase in resell value.
Orange County Solar Installation Promotes Clean Energy
Solar power allows you to substitute carbon-based fuels with a renewable form of energy. Sunlight is free. Best of all, sunny days are abundant in Orange County. Gain energy freedom by investing in a new energy future. One that is protected from price fluctuations and breaks free from a dependence on a nonrenewable energy source.
And best of all, renewable energy products like solar helps protect the air by reducing the need to burn carbon-based fuels. Solar produces no pollution and has a positive impact on promoting clean energy. Solar is one of the most widely adopted and cheapest forms of renewable energy sources. The move towards a renewable energy economy will allow for energy independence as we break free from the constant energy price increases by the utility companies.
Disadvantages of Orange County Solar
Solar Panels are Dependent on Orange County Weather
Solar panels are dependent on sunlight. It is the primary drawback that you face when owning a solar panel system. Orange County, sees lots of sunlight every year. But on non-sunny days, your solar energy system will not produce much energy. Instead of sending excess energy back to the grid, you may have to draw on your utility company. Thus, in this way, you can use the panels when there is enough sunlight and draw from your utility company when your energy consumption outweighs your solar generation. The surplus energy that your solar energy system generates during the daytime will create credits that you can use to offset the cost of pulling from the utility company. Calculations of energy consumption are essential to ensuring that you build a properly sized solar energy system.
Solar Battery Storage is Expensive in Orange County
Even with the financial incentives available for battery storage services, a battery backup solution is expensive. Solutions like the Tesla Powerwall, LG Chem, Enphase Engage, and Panasonic EverVolt are great product options for batteries, they are still expensive and lacking. Most batteries only have a 5kW Continuous Output, which means that the defined discharge rate is low. So large appliances like your Air Conditioner (A/C) or Car Charger cannot be backed up with existing battery solutions. With the focus of clean energy shifting towards battery backup,
To meet California's Energy Efficiency Goals, a tremendous amount of investment has been made in innovating solar equipment. The latest innovation and investment have been made in battery backup. New renewable energy products are starting to emerge that expand the ability of batteries and promote battery storage price drop.
How much do the solar panels cost in Orange County?
It would help if you first determine your monthly utility costs. Usually, solar panels are sold based on kilowatts (kW) of energy. The average price of solar panels in California is $3.5 per watt. Thus the whole system will cost you according to the cost per watt and the size of the system you need to install.
If you plan to set up only 3kW at the beginning, it will cost you around $10,500. But if you want to go higher, the cost will change. For example, the cost of a 6 kW of the system will be around $21,000. Furthermore, the cost of a 10 kW energy generation system will cost you about $35,000.
Homeowner Solar tax credit for Orange County
Solar provides numerous amazing benefits but best of all it is eligible for additional savings through the Federal Investment Tax Credit (ITC). If you are a resident of California and have a tax liability, you will be eligible for the Federal Investment Tax Credit aka Solar Tax Credit. In 2022, the tax credit that you will get will be 26% (percent) of the total solar cost.
Maintaining your OC Solar Panels
Even though your Orange County solar system should last for years with little to low maintenance it is good to get a regular comprehensive examination of your panel system to see that it is performing at its optimal efficiency and that it is safe. Ensuring that there are no issues with the electrical system and components. Inspection is especially critical if your solar system is a few years old.
You can place the solar panels on your roof so that they get fully exposed to the sunlight. But do they need cleaning? It can help but not for very long. If the plates are covered with a thick layer of dust or ash, their performance will be compromised. Therefore, you will have to clean the solar panels if there is a dust storm or a recent fire. Other than that, it is not necessary to clean them regularly.
Maximizing the Life of Solar Panels in Orange County
Clear debris, such as leaves, or dirt (use garden hose)
Schedule a cleaning with your solar panel provider once a year
Keep trees and foliage trimmed to keep branches from damaging your panels or blocking sunlight
Monitoring Your Solar Energy Production and Home Consumption
With solar energy, you have the ability to keep track of your solar energy production. By monitoring your solar system's performance you can determine
If you plan to install a rooftop solar system in your home, you already know you will save money. But how do you see the amount of power your panels are generating or what is your average savings?
Solar photovoltaic works by converting sunlight into electricity. At a basic level solar panels transform sunlight into direct current (DC) electricity. An inverter is connected to your home's electrical system (AC – Alternating Current) during the solar installation process which converts DC to AC electricity that can be used by your household appliances. You can increase the productivity of your solar panels by monitoring your system to achieve peak solar power efficiency. You can take advantage of products and services to get the most benefit out of your system. Read more on how solar panels work.
This is one of the safest sources of renewable energy.
Using sunlight to get electricity is the best renewable energy resource. You won't be compromising anything. Another type of renewable source often compromises environmental health. But solar plates does not. The sunlight will fall on the plates and photovoltaic cells will convert it into electricity.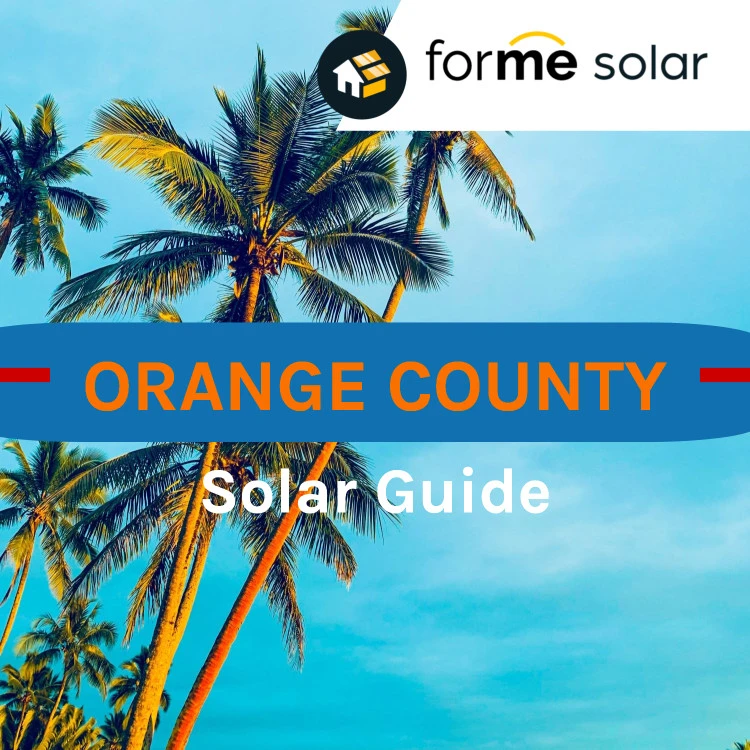 Let's Go Team Orange County Solar!
We are excited to share that not only do we provide end-to-end solar services from custom solar installations to inverter repairs. Serving Orange County solar panel installations in Aliso Viejo, Anaheim, Brea, Buena Park, Costa Mesa, Cypress, Dana Point, Fountain Valley, Fullerton, Garden Grove, Westminster, Irvine, Huntington Beach, La Habra, La Palma, Laguna Beach, Laguna Hills, Laguna Niguel, Laguna Woods, Lake Forest, Los Alamitos, Mission Viejo, Yorba Linda, Newport Beach, Orange, Placentia, Rancho Santa Margarita, San Clemente, San Juan Capistrano, Santa Ana, Seal Beach, Stanton, Tustin, Villa Park and surrounding areas!
Conclusion – Best Solar Company in Orange County
Looking for the best Orange County Solar Installation Company? Give Forme Solar Electric a call at 714-694-2262! Hassle-free solar panel systems. We offer our clients the best prices available for solar panel installation and Forme Solar Electric is a full service Solar Company from installation to repair. Since 2017 we have installed thousands of solar systems. We provide free solar cost estimates and we guarantee workmanship.